meaning they actually look like ornaments now.
Thanks to
Sweet Pea
for providing me with a link to make
braided cord
, that actually *looks* like braided cord...and even a blind monkey can do it! Which is great, considering that I was definitely questioning my IQ!
Anyway, first is my dear sister's ornament. As I said in a previous post, it's Teresa Wentzler's Intermediate Whitework Ornament stitched in DMC Color Variations. I did a snazzy fringe-y type thing around it. It actually turned out pretty, even though my stitching skills are really non-existent, and there are some places where I look at this ornament and gag. But my family knows how bad I sew, and they overlook it.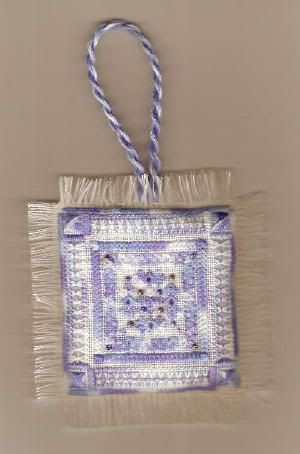 But doesn't the braid look awesome? Yes, I really do have to pat myself on the back, as my first present of the Christmas season is discovering that I can make something that's up to par with what a blind monkey can do!
Next is my darling little neice's ornament. Once again, my lack of sewing skills really came into play on this one. I can barely sew a straight line, and I had to sew an oval! EGAD! It was a total nightmare. It's a good thing no one can see the side where it was hand stitched together after being stuffed!
And yes, I made the cord and tassel myself! I'm not as happy with the cord on this one, but I think it's because of the #4 braid...it didn't want to play nice with the rest of the thread.
So now, I'm going to finish my brother-in-law's and Aislin's dance teacher's ornaments. It's a good thing that my parents are going to visit my sister for Christmas, because I can finish their ornaments for when they get back. So many ornaments...
...so little time!