on the SBQOTW.
I really do have the best intentions on keeping up with this on a weekly basis. After all, this blog is supposed to be about stitching. But as my mother says, "I've slept since then."
August 3rd:
Have you hand-dyed your own fabric? Why or why not? Would you like to try to do so?
No I have never dyed my own fabric. I would love to, and am envious of those stitchers I know who have tried this. C even dyed some with koolaid! It turned out lovely!
I think I'm worried about the mess. Or the fact that I'm such a perfectionist that I will hate every piece. Or something.
July 27th:
What is your most unique/interesting stitching quirk? (This could be something concerning the way you stitch, how you organize your stash, etc.)
I don't know that it's interesting, but it is a quirk. I'm obsessive about how my stitches lay. They have to lay side-by-side, not twisted, and all the stitches have to be the same height. Meaning that if I look at my stitching from the side, there better not be any stitches sticking up higher or sitting lower than the others.
I even have several tools to help in this endeavor. I can't remember the name, but I have a stitch *tucker*. It is like a big needle that can be pushed down into the holes of the fabric and it *tucks* stitches toward the back. How's that for obsessive?
July 20th:
Have you ever done a color conversion? If so, what did you think about your results and would you do it again? If not, would you like to try someday?
Yes I have done a conversion. I did TW's Knotwork Bookmark, which she designed with color conversions in mind. I was very happy with it, and used my absolute favorite colors. I'm going to enter it in the county fair this month.
Absolutely yes I would do it again! TW also has a dragon that calls for conversions, and I have looked at some colors for him also. The only problem I have is taking so long to find the *right* colors. But there is such a sense of pride when the colors I choose actually work!
I have framed my first piece for the fair this year. It's my first fair, so I am very excited and completely nervous. Since my sister Heather is so stingy and won't let me enter her gorgeous wedding sampler that will probably win a blue ribbon (I love you Sissy!) I had to find some other pieces. But I think I've picked some nice things to enter.
1. TW's Knotwork Bookmark. Not actually finished into a bookmark yet. I'm just waiting on the vinyl sleeve and tassel. I was thinking dark brown to match the brown in the border.

2. An ornament. I just have to put on the hanger.
3. Winter Blues by Just Nan under samplers. Needs to be framed but I will probably do that today.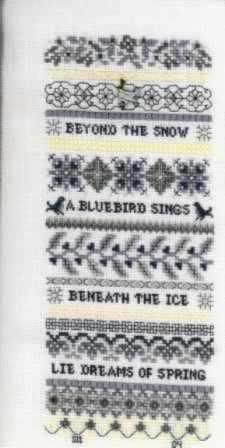 4. TW's Jeanne Love's Angel. The first thing I framed myself!
5. Main Street Box. This was a recent finish for my mother, but she generously allowed me to enter it in the fair. It will be under perforated paper. It can be seen under recent finishes in the sidebar.
All the details for these pieces can be found in my webshots albums. Look under "My favorite links" in the sidebar.
Other things I'm thinking about include a piece of jewlery that I made, a silk gauze piece, a beaded ornament, and a beaded egg.
I'll post more pictures as I finish things. I'm so excited though, and I'm going to be selfish once again...
...and hope I win something!